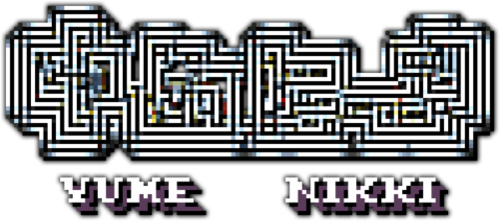 Yume Nikki or Dream Diary in English is a 32-Bit freeware game created by kikiyama, a mysterious Japanese game designer. The game was made using RPG Maker 2003 and is regarded as one of the most original applications of the software, as well as the start of a possible new genre of games. It was initially released on June 26, 2004 (under version 0.00), and received numerous updates until October 1, 2007, when version 0.10 was released. The game follows a girl named Madotsuki as she dreams. The goal is to seek out and acquire all 24 "effects". The game otherwise has no actual plot or dialogue, and nearly the entire game is left up to speculation. (via Yume Nikki Wiki)
Following its release, Yume Nikki gained a cult following and as most games do, led to a variety of fangames. Unlike most, though, Yume Nikki fangames can be seen as an entire separate genre in of itself. One of the most notable fangames is the collaborative spiritual successor Yume 2kki. In similar popularity is also .flow. A Yume Nikki fangame, or Yume Nikki Hasei (Yume Nikki Derivative), is essentially an exploration game that includes collecting "effects" similarly to the original.
However, not all Yume Nikki fangames follow the mold. Some are more of ones that may be described as "inspired by" instead of directly mirroring the way the original works. Although this is the case for some, many of the games use their own unique additions to the formula to create something truly new and exciting.
Within the Yume Nikki community, the trio of notable games' protagonists are sometimes referred to as the Yume Trio or Yumemi Girls in Japanese. This includes Madotsuki of Yume Nikki, Urotsuki of Yume 2kki and Sabitsuki of .flow. However, many other protagonists can be included in the label. There's commonly lots of fanart and fanwork using protagonists of Yume Nikki fangames interacting with each other. It's kind of a whole subgenre or art and work in the community itself.
There's a variety of things that are added to Yume Nikki fangames that identify them as such. Even though not all of them contain these things, it's still important to understand what is usually seen in these games regarding effects, elements, graphics, and characters. One of the most common identifiers of the fangame genre itself is a lack of dialogue. Although some may include it, many are solely exploration. Below are just a few examples of identifiers:
GRAPHICS
Yume Nikki is known for its surreal graphic mixture of pixelated areas and scenery as well as images and drawings that seem completely out of the aesthetic of RPG Maker pixel art. Many fangames share this unique style with some even adding real life images or sprites to further show a surrealist style. Surrealism is a key to most fangames and these include, but are not limited to, random religious imagery, lots of flashing colors, scribbles that sort of seem like they were drawn by a child, and random organs or body parts to name a few. With the sprites in general, many fangame protagonists are essentially Madotsuki recolors. It's actually quite rare to see different sprite styles with protagonists as Madotsuki's big shoes and cute closed eye look has become a staple for the genre. Other characters aside from protagonists don't necessarily have a set look though characters who are similarly human are usually also somewhat Madotsuki recolors akin to Monoe, Monoko, and Poniko in the original game.
GAME DESIGN
When it comes to the actual design and mechanics of a fangame, they usually share many key similarities. The first being the "real world" usually being a single room (most times a bedroom) where there is usually a way for the protagonist to get into the dream world. Many share the idea of a minigame in this room that is alike to NASU in the original game. Along with this, a main point in the way the game works is usually The Nexus- a place where you can go to a minimal group of specific worlds in the game that are in one room. However, these are usually (if not always) not all of the worlds.
this part is a wip
LINKS
Yume Nikki Fangame Wiki - fandom wikia that includes lots of information on a ton of fangames
Yume Nikki Fangame Archive - an actual database for most if not all fangames of Yume Nikki
Yume Nikki Online - a multiplayer version of Yume Nikki and a collection of other fangames
Yumebooru - a image board of Yume Nikki + Fangames art; similar to Danbooru
whitedesert - a Neocities site themed on Yume Nikki that includes lots of pages for surreal horror media. A huge inspiration for this site specifically the way the 'Games' tab is set up!